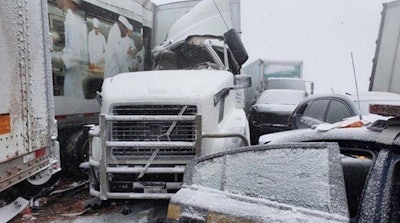 The New York State Thruway was closed in both directions Wednesday by a 21-vehicle pileup that included five tractor-trailers.
The crash occurred at about 2:20 p.m. near mile marker 382 in the eastbound lanes near Batavia, according to numerous reports. The Thruway reopened in both directions by about 7:45 p.m.
State officials had banned all tractor-trailers and buses from the highway as of 8 p.m. Tuesday.
The Trucking Association of New York today posted to Facebook: "As a result of yesterday's multi-vehicle accident, which involved five tractor-trailers on a restricted portion of the Thruway, Gov. (Andrew) Cuomo has instructed state police to step up enforcement. Drivers caught operating on restricted roads will now be issued criminal violations, which may result in a misdemeanor, potentially impacting their CDL."
Numerous injuries were reported. One of those injured in the wreck was a New York State trooper.
Also on the Thruway Wednesday, a trucker avoided injury when a sheet of ice flew off the roof of a vehicle in front of him and crashed into the windshield of his truck.
Wells Tooke, a driver for Utica-based ERL Intermodal, wasn't injured and managed to bring his truck to a safe stop. The company estimates there was $3,000 in damage.
All tractor-trailer and commercial bus bans remain in place in New York at this time. Strong winds and sub-zero temperatures are creating icy and dangerous conditions. TANY cannot stress enough the importance of respecting the bans and staying off these roads. Already this morning TANY has received reports of jack-knifed tractor-trailers that were operating on roads currently restricted to trucks. While traffic cameras may indicate the roads are clear, actual conditions may be much different.
As a reminder, the following roads are currently restricted to tractor-trailers and commercial buses:
• NYS Thruway from exit 46 (Rochester I-390) to the Pennsylvania border
• I-190
• I-290
• State Route 400
• U.S. Route 219 from Peters Road to I-90
• State Route 5 from State Route 179 to I-190
• I-81 from the Canadian Border to State Route 104
Heavy snows continue to fall along the eastern edge of Lake Ontario, including Intertate 81.
A winter storm with significant snow and temperatures, in some places, 25 degrees below freezing are on their way to New York State.
State Police want to remind drivers to avoid ANY unnecessary travel.
Slow down. Be prepared. Be safe. pic.twitter.com/7uJrMvgqGh

— NewYorkStatePolice (@nyspolice) January 29, 2019
Just before exit 35, almost to the snow band, our friends at the #NYSPD are enforcing the truck ban. Good work guys. pic.twitter.com/2bqfgXu47t

— NYSDOT Central NY (@NYSDOTSyracuse) January 31, 2019
BUFFALO ADVISORY - At this time, the tractor trailer and commercial bus ban remains in effect until further notice.

We encourage all drivers to download the Thruway's mobile app or signup for TRANSAlerts to be notified when the ban is lifted. https://t.co/a03Idf2sit pic.twitter.com/Fnuuycx16M

— NYSThruwayAuthority (@NYSThruway) January 31, 2019