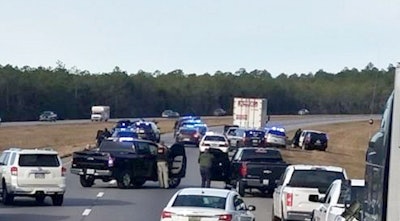 UPDATE: 3:55 p.m. CT. The yet unidentified truck driver involved in what ended up being a five-hour standoff with police did not actually threaten police officers with a machete, contrary to earlier reports from media outlets. Mississippi Highway Patrol Master Sgt. Chase Elkins said in a press conference this afternoon the machete report stemmed from Jackson County Sheriff deputies seeing a machete in the truck when they first pulled the trucker over before he led them on a chase.
UPDATE: At 1:36 p.m. CT police in Mississippi appear to have taken the driver into custody. During the four-hour standoff, police used tear gas at least twice to get the driver out of his truck. The driver has still not been identified.
UPDATE: WPMI-TV reports "the problems started in Alabama when an 18-wheeler caused two accidents driving recklessly on the interstate. It is believed one of the cars it was an ambulance." The trucker is said to have exited the truck and brandished a machete at police officers, and then returned to the truck.
Our original story:
Police and the driver of a tractor-trailer are engaged in a standoff on Interstate 10 in eastern Mississippi following a pursuit that began in Alabama. Traffic is shut down in both directions.
The unidentified driver is said to be armed with a machete, according to police. The truck is stopped on the shoulder of westbound I-10 near mile marker 60 near the Gautier-Vancleave (Highway 57) exit. Police are said to have shot out two of the truck's tires.
There has been no word as to what prompted the chase and resulting standoff.
All lanes of I-10 are blocked. Mississippi Highway Patrol closed I-10 east- and westbound from Highway 57 to Gautier-Vancleave Road. Police are detouring drivers off the interstate at Highway 57, Gautier-Vancleave Road, Highway 63, and Highway 613 in the westbound lanes.
WLOX-TV reported a SWAT team and agents from the Bureau of Alcohol, Tobacco, Firearms, and Explosives are involved.
This is a developing story and we will have updates when available.