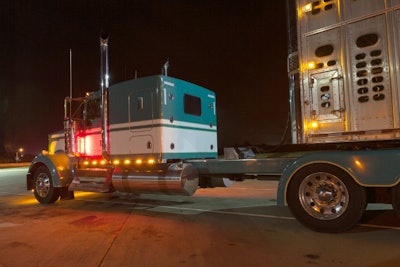 A coalition of groups representing livestock haulers and others has asked the Federal Motor Carrier Safety Administration for more lenient hours of service regulations.
Instead of the standard 14-hour on-duty period and 11-hour drive-time limit, the groups have asked FMCSA for a 16-hour on-duty period after an off-duty period of 10 consecutive hours and a 15-hour drive-time window within those 16 hours.
The request is on behalf of drivers who haul livestock, insects and aquatic animals.
FMCSA is accepting public comment on the request for 30 days, starting Wednesday when it will be formally published in the Federal Register. Comments can be filed at regulations.gov under Docket No.FMCSA-2018-0334.
The groups cite animal welfare as the key reason for the need for more lax hours of service limits. The request for the exemption was filed jointly by the National Cattlemen's Beef Association, the Livestock Marketing Association, the American Farm Bureau Federation, American Beekeeping Federation, American Honey Producers Association and the National Aquaculture Association.
Livestock haulers currently are exempt from the electronic logging device mandate, allowing them to continue to run on paper logs.