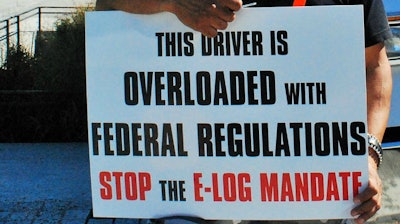 The "slow roll" trucker protest on Interstate 465 around Indianapolis today appears to have gone off without much difficulty, according to police, and at least one of the organizers said it was a success.
Truckers protesting the mandated use of electronic logging devices, hours of service regulations, the lack of sufficient safe parking and other issues made two laps of the 50-mile loop around the city. They have said their goal was to draw attention to a proposed Apil 12 nationwide shutdown of trucking being organized by members of several Facebook groups.
Sgt. Matt Ames, public information officer for the Indiana State Police, said between 75 and 100 trucks were involved in the event. He said the protest occurred without incident.
Ames said truckers abided by the law, stayed in the far right lane, drove within the speed limit and not disrupt the normal flow of traffic. He said the truckers were "very courteous toward other motorists" on the interstate.
Trish Tedrow was one of the organizers of the protest and was pleased with the outcome.
"It went well," said Tedrow, who rides with her husband Randall, an owner-operator for the last 43 years. "We did what we said we would do. We did our thing."
Tedrow, who is from Jackson, Ohio, said she had not heard any final number of trucks involved. She said it was nowhere near the 500 trucks the state police said in advance might participate.
She did say truckers who happened to be on the road at the time joined in.