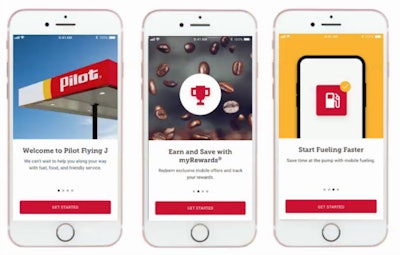 Pilot Flying J announced earlier this week it will unveil a significant upgrade to its mobile app in April. In a call with members of the media Monday, PFJ officials also outlined plans for continued expansion, the addition of truck parking and new food offerings with a focus on local products.
The new app will debut early next month and can be previewed yet this week at the Mid-America Trucking Show in Louisville, Kentucky.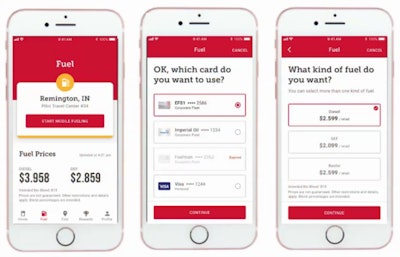 On the road, the app lets drivers find PFJ locations, reserve parking, contact PFJ Truck Care, and save favorite locations. They can also keep track of their myRewards points and offers.
While at a PFJ property, the app shows drivers what they can use while at that particular location. Amenities may include reserving a shower, mobile fueling, and viewing in-store food and beverage specials.
Users will not need to download a new app. They can just update the existing myPilot app.
Officials also said PFJ has upgraded and improved its on-site wifi service.
Also during the call, officials said Pilot Flying J continues to add locations and expand its food menu and retail offerings.
"Since the beginning of January, we've opened one new store in Washington and completed the grand opening of four locations in Arizona, California, Texas, and Missouri," said Ferguson." At the end of this year, our goal is to open more than 10 additional travel centers across the U.S. and Canada, putting us on track to add more than 900 parking spots."
PFJ is also improving and adding to the menu of foods available at its locations. Ferguson said the company worked with celebrity chef Tim Love to add special breakfast tacos to the menu of locations in Texas and New Mexico.
"Tim Love partnered with Pilot Flying J and crafted an authentic recipe with flavors including sausage, egg and cheese, or a potato, egg and cheese, and accompanied by his signature creamy Jalapeno green salsa," said Ferguson.
He said in the coming months the company will also debut new breakfast theme grill items in what Ferguson said was "an effort to continue providing our guests the best value and variety possible at our stores."
PFJ is also expanding its partnerships with other nationally recognized brands like Bass Pro Shops. It is also adding more products available to customers.