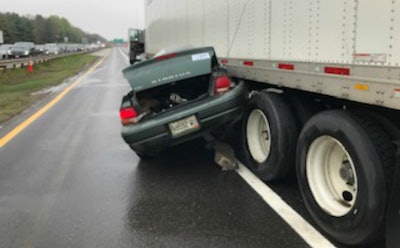 No one was injured Friday, May 17, when a car became stuck under a tractor-trailer on the Maine Turnpike.
The driver of the car suffered minor injuries and the truck driver was not injured, according to a statement from Maine State Police. Neither driver in the mishap that occurred at about 10:30 a.m. was identified.
Earlier that week, a similar mishap occurred on Interstate 69 in Indiana.
State police there said a 1989 Mustang became wedged under a moving tractor-trailer and was dragged for about half a mile because the truck's driver was unaware the wreck occurred.
Police say a mechanical failure caused that crash. Again, neither driver was injured.