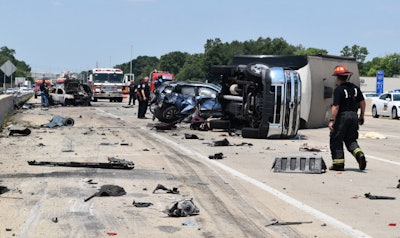 A 57-year-old truck driver from Sturgeon, Missouri faces three counts of reckless homicide and one count of reckless operation of a vehicle in a work zone in connection with a chain reaction accident that killed a mother and her two children on Interstate 465 in Indianapolis Sunday, July 14.
Formal charges were filed Thursday, July 18 against Bruce Pollard, who is said to have been speeding and distracted when his tractor-trailer slammed into a car driven by 29-year-old Alanna Koons. She and her 18-month-old twins June and Ruby died in the crash. Seven other people were injured.
Pollard reportedly told Indiana State Police he was driving between 30 and 35 mph at the time of the crash, but data from Pollard's truck showed his speed was 65 mph. The speed limit in the construction zone was 45 mph.
Police say Pollard was reaching for a container of iced tea and didn't notice traffic ahead of him was stopped.
WXIN reports, "A search of court records in Missouri and Indiana shows Pollard had more than a dozen previous driving violations, including a 2017 conviction in which Pollard admitted to falsifying his medical card so that he could drive a commercial vehicle."
12:02 PM - 7 adults injured, transported & 3 perish when witnesses say a semi driver plowed into stopped traffic at I 465 & Keystone Ave at a high rate of speed. 6 cars, a truck w/ mobile home & the semi involved w/ 1 of the cars fully involved in fire. 3/4 mile debris field pic.twitter.com/ZWeX7txpW4

— IFD NEWS (@IFD_NEWS) July 14, 2019