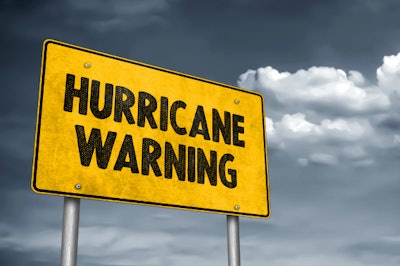 Bad weather most likely awaits if you're headed to or through Florida and parts of the Southeast this Labor Day weekend and into next week.
Florida Gov. Ron DeSantis declared a state of emergency Wednesday, Aug. 28 as Hurricane Dorian strengthens and could deliver dangerous winds and storm surge late this Labor day weekend and into next week.
The Federal Motor Carrier Safety Administration announced the suspension of certain regulations for drivers who are directly providing relief supplies in 26 Florida counties — Baker, Bradford, Brevard, Broward, Clay, Duval, Flagler, Glades, Hendry, Highlands, Indian River, Lake, Martin, Miami-Dade, Monroe, Nassau, Okeechobee, Orange, Osceola, Palm Beach, Putnam, Seminole, St. Johns, St. Lucie, Volusia and Union.
The FMCSA also declared a Regional Emergency, waiving hours of service requirements for those directly supporting relief efforts in Alabama, Florida, Georgia, Kentucky, Louisiana, Mississippi, North Carolina, South Carolina, Tennessee, Virginia, Puerto Rico, and the U.S. Virgin Islands.
As long as the declaration is active, truckers engaged in specific aspects of emergency relief, including direct assistance for the immediate restoration of essential services (electrical, sewer, water, and telecommunications) or essential supplies (food, water, medical supplies, and fuel), are exempt from hours of service regulations.
The declaration is effective through Oct. 28 unless it is extended or canceled.
The Florida Trucking Association has a website to keep truckers up to date on issues involving the storm.
An advisory late this morning from the National Hurricane Center said:
the storm could make landfall somewhere on the southeastern coast of the U.S. on Monday
it's expected to bring life-threatening storm surges and hurricane-force winds to the northwestern Bahamas this weekend
"there is an increasing likelihood life-threatening storm surges along the Florida east coast late this weekend or early next week"
the possibility of "devastating hurricane-force winds" could arrive along Florida's east coast late this weekend or early next week
the storm will likely bring heavy rains to Florida and the rest of the Southeast this weekend and into the middle of next week
Accuweather is reporting Dorian could become a Category 3 storm as it approaches Florida and the rest of the Southeast.