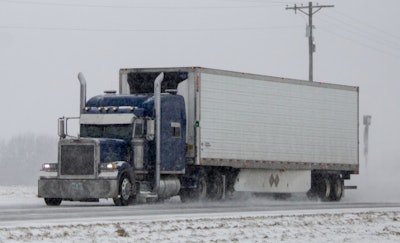 They're calling the upcoming winter a "Polar Coaster," but many truckers may not appreciate the wordplay of The Farmer's Almanac.
The venerable, if folksy-homesy publication is likening winter to an amusement park ride because the season "will be filled with so many ups and downs on the thermometer." The almanac adds "the worst of the bitterly cold winter conditions will affect areas east of the Rockies all the way to the Appalachians."
This winter looks to be a repeat of the last one as the coldest temperatures are forecast for the northern Plains into the Great Lakes, according to the almanac. The Northeast, can expect colder-than-normal temperatures for much of the winter. However, the western third of the country will see near-normal winter temperatures.
If that isn't enough, the almanac is predicting above-normal winter precipitation for the eastern third of the country, the Great Plains, Midwest, and the Great Lakes. The good news is that the Pacific Northwest and Southwest ought to receive near-normal precipitation.
"Our extended forecast is calling for yet another freezing, frigid, and frosty winter for two-thirds of the country," said almanac Editor Peter Geiger.
The Winter Solstice is at 5:23 p.m. Dec. 21, but forecasters consider meteorological winter begins Dec. 1.