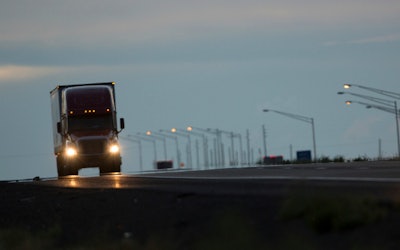 The Commercial Vehicle Safety Alliance has requested a 45-day extension to the period of time allotted for members of the trucking industry and others to make comments about proposed changes to federal hours of service regulations.
The comment window opened Aug. 22 on the Federal Motor Carrier Administration's proposal to inject flexibility into the rules, and is set to end Oct. 7.
Proposed changes include allowing drivers to pause their 14-hour on-duty clock for up to three hours and extending the split sleeper berth options for drivers to include splits of seven hours and three hours.
The agency also proposed more flexible limits around the 30-minute break requirement and allowing drivers to extend their 14-hour on-duty window due if the face adverse conditions like weather or traffic congestion. Lastly, FMCSA proposed expanding the short-haul exemption that could allow more short-haul drivers to skip keeping records of duty status.
In its letter requesting the extension, CVSA said:
"CVSA applauds the Federal Motor Carrier Safety Administration for seeking public comment on this critical issue and we look forward to providing comments to the agency on behalf of the commercial motor vehicle enforcement community.
"However, 45 days is not adequate time to prepare and approve comments on such a complicated and important issue. In order to provide comments that will contribute to a comprehensive, well informed, science and data-based NPRM, it is imperative that stakeholders be given additional time to develop their comments."
Comments can be filed at the regulations.gov rulemaking portal.