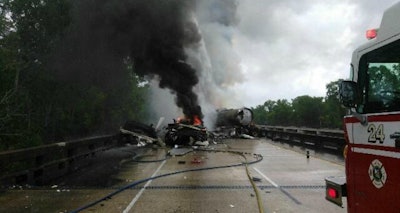 Five tractor-trailers and a car were involved in a pileup Monday afternoon, Aug. 26 on Interstate 10 in Louisiana about halfway between Lafayette and Baton Rouge.
One person died and at least five others were injured in the crash and fire that occurred in the westbound lanes of I-10 at mile marker 124.5 between Whiskey Bay and Butte La Rose. The initial crash involved two trucks and a car, but the other three tractor-trailers were involved in two other nearby mishaps.
A fully-loaded logging truck caught fire and burned until early evening. Several media reports said three tanker trucks were involved, but there were no spills.
Authorities did not disclose what caused the collisions, nor did they identify any of the drivers involved.
I-10 was closed to traffic in the area for most of the day and into the evening.
#BREAKING: I-10 West is closed at Mile Marker 122 (Atchafalaya Basin Bridge) due to a multi-vehicle accident with vehicle fire. Congestion is approaching 3 miles in length. Use alternate route. https://t.co/7FSBOFELp1 pic.twitter.com/sroF9XCvaL

— WAFB (@WAFB) August 26, 2019