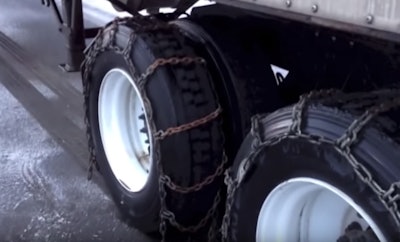 It's time to be sure you're carrying chains if your driving takes you to or through Colorado.
From Sunday, Sept. 1 through May 31, all commercial vehicles traveling on Interstate 70 between the Edwards exit (mile point 133) and the Morrison exit (mile point 259) must carry sufficient chains to comply with the state's chain law.
According to the Colorado Department of Transportation, the chain law defines commercial vehicles as being used in commerce to transport passengers or property and falling into one of these three categories:
gross combination weight rating of 26,001 or more pounds, including a towed unit, which has a gross vehicle weight-ration of more than 10,000 pounds
gross vehicle weight rating of 26,001 or more pounds
designed to transport 16 or more passengers, including the driver
If you need to chain up, you can so so at one of the chain stations created by the state. You can find those on this map.
Colorado also requires drivers of all vehicles on I-70 between Morrison and Dotsero will be required to adhere to the state's traction law. This requires vehicles to have either four-wheel drive or all-wheel drive with snow or mud+snow-rated tires, or specialized winter tires, chains or other traction devices for cars with two-wheel drive.