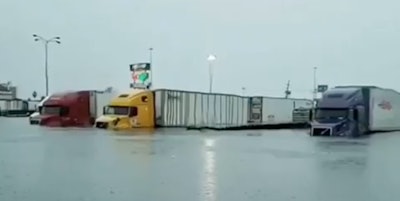 A large section of southeast Texas is flooded by massive amounts of rain from tropical depression Imelda in the last several days delaying some truckers and stranding others. Sections of numerous streets and highways — especially in and around Beaumont — are closed by flooding caused by the record-setting rains.
As of 7:30 a.m. Friday, Sept. 20, Interstate 10 between Beaumont and Winnie remains closed with no estimate as to when it will reopen, according to the Texas Department of Transportation. I-10 is also closed at the Crosby Lynchburg Road Bridge due to a loose barge striking the bridge, according to TDOT, which said it will remain closed until the bridge can be inspected.
Flash flood watches and warnings will remain in effect through today, according to TDOT, which yesterday said that "In the past 72 hours, more than 41 inches of rain has fallen on I-10 between Winnie and Beaumont."
Keep track of Texas highway conditions here.
One trucker posted a dramatic video (see below) of a parking lot at a Petro in Beaumont that shows numerous trucks stranded in high water.
Texas Gov. Greg Abbott declared a state of disaster in 13 counties Thursday, saying the severe weather "has caused widespread and severe property damage and threatens loss of life."
Elsewhere, Interstate 29 in Iowa is closed from the Crescent exit to the I-29, I-680 Interchange at Loveland because of flooding. I-29 traffic is being detoured using I-680 and I-80.
OMG! This truck driver intentionally drove into the high water at 59N and the beltway. He got stuck. All of us on 59 got worried. I tried calling 911. But it's backed up. #khou11 @SallyKHOU11 pic.twitter.com/Bjbs6prw97

— Melissa Correa (@KHOUmelissa) September 19, 2019
There are no words to describe the rain we're seeing in Winnie, Texas. It's relentless. It's unforgiving. We're on the ground bringing you LIVE coverage on -> https://t.co/TYCmBA6uYP. #BREAKING #abc13 #hounews pic.twitter.com/dCF7RBtMsK

— Steve Campion (@SteveABC13) September 19, 2019
Less than an hour ago I could still see the tires on this car. The water is rising fast! I-10 traffic is at a standstill, shut down in both directions between Winnie and Beaumont. #12NewsNow @12NewsNow pic.twitter.com/vFmzGw8F0I

— Parris Kane (@PKaneReports) September 19, 2019
Many people I photographed today told me, "This is worse than Harvey." Despite the fact that #Imelda was downgraded to a #TropicalDepression overnight, heavy rain inundated the area causing flooding and Check out our #floodphotos with a story by @stjbs https://t.co/bZTbFwTLiB pic.twitter.com/1JvjAw8R1t

— Brett Coomer (@coomerchron) September 20, 2019