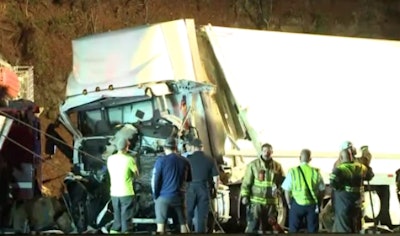 A truck driver from South Carolina died early Sunday, Sept. 22 when his tractor-trailer crashed into the back of a fire truck stopped at the scene of an earlier accident on Interstate 20 in Georgia west of Atlanta.
Atlanta TV station WXIA reports the firetruck was on the interstate in response to an earlier incident involving a Ford Mustang that had run off the highway and into some nearby woods. The truck was blocking the shoulder and right lane to protect other emergency vehicles and workers as they worked to extricate the driver from that incident. About 20 minutes after the initial accident, officials said a tractor-trailer smashed into the rear of the fire truck.
Officials said the driver of the tractor-trailer, 41-year-old Javon Martin of Honea Path, South Carolina, died at the scene.