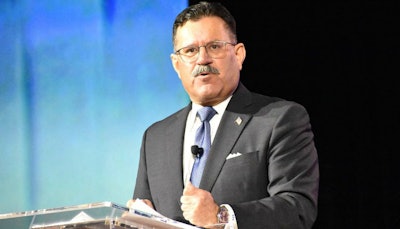 Members of the trucking industry reacted with surprise when they learned Ray Martinez, head of the Federal Motor Carrier Safety Administration for about 18 months, was leaving before the end of October.
Martinez's departure was announced Thursday, Oct. 10, prompting many in the industry to praise him and say he will be missed. Martinez, who was sworn in as the agency's sixth administrator Feb. 28, 2018, is leaving the job to oversee a Department of Transportation construction project at the Volpe National Transportation Systems Center in Cambridge, Massachusetts. The New Jersey native took the new role to be closer to home, according to the statement.
John Esparza, president and CEO of the Texas Trucking Association, was, like many, surprised to hear Martinez was leaving his post and added "he certainly will be missed." Esparza said he and other state trucking association executives were optimistic when Martinez was announced as the Trump Administration's choice for FMCSA administrator. Martinez proved them right during his time in office, said Esparza.
"We had a great working relationship with Administrator Martinez," he said. "I think he did a fantastic job. He took a hands-on approach" to what can be a "grinding" job. "I hate to see him go frankly."
Here's what other folks in the industry said:
"We're sorry he is leaving because he has been a breath of fresh air as the chief regulator of trucking. We hope the successor continues on the path of reasonable and objective regulation of the industry. We wish Ray well in his future endeavors." Joe Rajkovacz, director of government affairs and communications at the Western States Trucking Association.
"Ray Martinez has been a tireless advocate for improving highway safety. We appreciate the openness that he brought to FMCSA as he was always willing to listen and respond to the trucking industry's issues. We will certainly miss his leadership but wish him well in his new position." Kendra Hems, president, Trucking Association of New York
"Administrator Martinez was a great proponent in advancing and supporting women in the industry by ensuring an inclusive and diverse environment at FMCSA. We were always welcomed to visit and share our concerns with him. He will be missed ." Ellen Voie, president/CEO, Women in Trucking
"Ray Martinez has been the most active, receptive, and responsive FMCSA Administrator since the agency's inception. He created a regulatory atmosphere that valued input from the men and women in the trucking industry above all else and we hope that will continue after his departure. Certainly, most truckers can identify with his desire to be closer to his home. We will certainly miss his leadership and his willingness to listen and learn about issues that impact small-business truckers, but we wish him the best in his next endeavor. " Todd Spencer, president Owner-Operator Independent Drivers Association
"We wish Administrator Martinez well in his new role at the Volpe Center, and we look forward to continuing our strong relationship with FMCSA's new leadership as we work on our shared goal of improving highway safety." American Trucking Associations President Chris Spear
Until President Trump nominates a replacement and that person can be confirmed by the Senate, FMCSA's Deputy Administrator Jim Mullen is expected to act as interim administrator, the DOT official said.
___
David Hollis editor of Truckers News and can be reached at davidhollis@randallreilly.com