The Penske Logistics Premier Driver Recognition Program added eight professional truckers to its 2019 Driver Wall of Fame. The Diamond Class members were honored for 20 consecutive years of safe driving recently.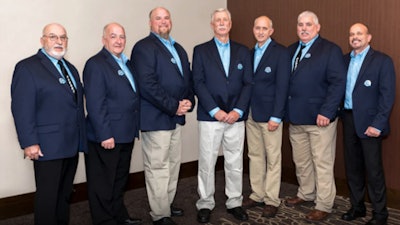 This year's inductees include:
Athern Archer, Jr., Michigan
Melvin Bartsoff, Jr., Michigan
David Jones, Kansas
Harold Legge, Ontario, Canada
David Pearson, Ontario, Canada
Charles Van Winkle, Indiana
James Weiss, Indiana
Jerry Wood, Indiana
"It is my distinct honor to welcome these 2019 Driver Wall of Fame inductees," said Marc Althen, Penske Logistics president. "Their names and their stories will become a permanent part of our company's history of valuing safety while providing world-class customer service."
Now in its third year, the Penske Logistics Driver Wall of Fame has 49 all-time members on display at the company's global headquarters in Reading, Pennsylvania. The Premier Driver Recognition Program has three levels to honor consecutive safe driving without an accident: Diamond (20 years), Platinum (15 years) and Gold (10 years).