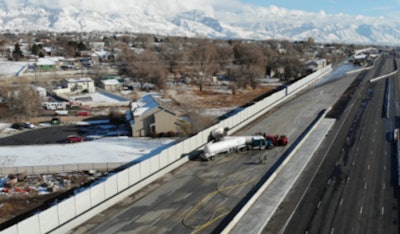 A tanker with two trailers of butane rolled over on Interstate 15 in Lehi, Utah Saturday morning, Nov. 30, closing the highway for more than 10 hours and forcing the evacuation of some nearby residents.
The driver of the truck had minor injuries.
Some of the butane spilled and most had to be transferred to another truck.
The Utah Highway Patrol is investigating what caused the crash, which occurred about 25 miles south of Salt Lake City.
Tractor-trailer exits interstate, lands on railroad tracks
The Tennessee Highway Patrol investigated an accident late last week in which a tractor-trailer fell off an overpass and landed on railroad tracks below.
The crash Wednesday, Nov. 27 occurred on Interstate 40 at mile marker 239 in Lebanon, Tennessee, which is about 30 miles east of Nashville.
Several other vehicles are said to have been involved.
The highway patrol continues its investigation.