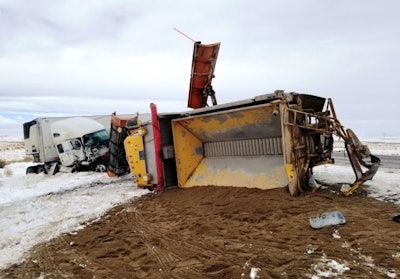 A Wyoming Department of Transportation plow truck was hit by a tractor-trailer on Interstate 80 east of Rock Springs near milepost 148 Thursday, Jan. 30, at about 9 a.m., flipping the plow truck on its side.
According to the Wyoming Highway Patrol, WYDOT plow driver Jake Webber was eastbound in the right lane, plowing the lane and shoulder, traveling at about 35 mph. A tractor-trailer driven by Angel Hernandez was also eastbound in the right lane behind the plow truck. Hernandez failed to move over, rear-ending the plow truck, according to the highway patrol.
The plow truck was sent off the right side of the road and turned over. The tractor-trailer jackknifed and went off the road. Both trucks came to rest on the right side of the road.
Hernandez did not report any injuries at the scene and Webber was transported to Sweetwater Memorial Hospital for undetermined, but not life-threatening injuries.