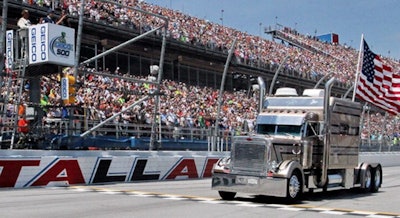 A trucker who thrilled hundreds of thousands of fans at one of NASCAR's most important venues has passed.
John Ray, whose 1999 Peterbilt 379 flying a large American flag became a fixture at the Talladega Superspeedway during the track's National Anthem performances, died Monday, Jan. 27. He was 82.
"National Anthems at Talladega Superspeedway are the most iconic, and it's because of our great friend John Ray," said Speedway President Brian Crichton. "What he brought to our fans can't be duplicated. He was an incredible, passionate man who supported the track and all of motorsports with everything he had. His spirit will live here forever. Our thoughts and prayers are with the Ray family."
Ray drove the custom Pete around the famed trioval for the first time in 2001 in response to the terror attacks of 9/11, and the death of his friend and NASCAR legend Dale Earnhardt Sr. But, Ray also had a lifelong connection to both trucking and racing.
Ray joined the Air Force right after high school, becoming a diesel mechanic, and while living California started racing motorcycles. He would later have a modest driving career as a NASCAR driver — cut short by a severe crash — and also as a team owner.
He drove trucks for many years and started his own trucking company in the 1970s, which today is run by his son Johnny. The younger Ray has been at the wheel of the Pete during its National Anthem runs at Talladega, which is not far from the family farm in Eastaboga, Alabama.
For more than 40 years, Ray was also a member of the White Flag Club, a service group of local businessmen from surrounding communities that assist at the speedway during race weekends.
"I never thought it would become the heart-felt moment that it has over the past some-odd years, but I'm glad it has become a tradition that means so much to the fans and the Talladega family," said Ray of his drives on the track. "It represents such a sense of pride that we all share together as a nation and as a community. It is my honor and privilege to do it."
Ray's connection to speed and the speedway came together in 1975. That's when he set a world speed record for a tractor-trailer, pushing one of his company's Kenworths around Talladega at 92.083 mph, according to a statement from the track.
Funeral arrangements have not been finalized.