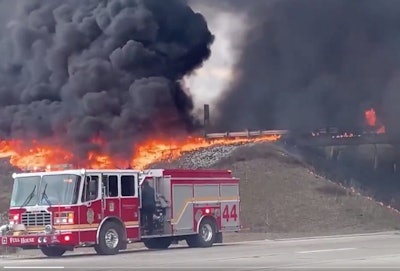 A tanker truck carrying 4,000 gallons of jet fuel overturned on the Interstate 70 ramp near Interstate 465 at about 2 p.m. today, Thursday, Feb. 20, causing a huge fire and tying up traffic in and near Indianapolis.
Indiana State Police report the truck driver was pulled out of the cab by three good Samaritans and was taken to the hospital for treatment.
Officials shut down I-70 and I-465 on the eastside in both directions.
Indiana DOT officials inspected the bridge to see what kind of damage may have been done. No details were made available.
The cause of the accident remains under investigation.
The driver of the semi was pulled out by a Good Samaritan. He is being transported to the hospital now

This will be a very extended clean-up and will affect rush hour traffic. Seek alternate routes @IFD_NEWS is in scene handling the fire now pic.twitter.com/aSj3QpEFG3

— Sgt. John Perrine (@ISPIndianapolis) February 20, 2020
LIVE update about damage from tanker fire. https://t.co/lb9rBBmIOL

— INDOT East Central (@INDOTEast) February 20, 2020
I-70 EB is still CLOSED after a tanker fire. The ramp from I-465 SB to I-70 EB is also closed. pic.twitter.com/ww3zKLCuSx

— INDOT East Central (@INDOTEast) February 20, 2020