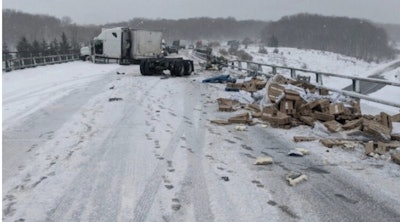 Winter weather is the likely cause of a crash in western New York Thursday, Feb. 27, that left thousands containers of yogurt strewn across part of Interstate 86.
New York State Police report two tractor-trailers collided on westbound I-86 in Bemus Point, which is located near Chautauqua Lake in the far western corner of New York 40 miles east of Erie, Pennsylvania.
The troopers say a truck driven by Vasyl Gashenyuk jackknifed on I-86 and blocked the westbound lanes. They say a truck driven by Tommy L. Stacy struck Gashenyuk's truck. Stacy's trailer became disconnected, spilling its load of yogurt and toppling over a guardrail onto an access ramp below.
Stacy was taken by ambulance to a nearby hospital. There was no word on his condition.
The crash, which occurred at about 2:30 p.m., remains under investigation.