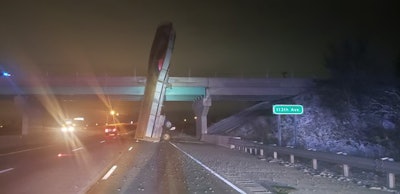 A trucker got a rude surprise Wednesday, Feb. 26 while driving on northbound Interstate 65 in Crown Point, Indiana.
Indiana State Police report David Chavez, 31, from Chicago, was driving a 1988 Kenworth with a 2005 Superior dump trailer and inadvertently activated the dump control, causing the empty trailer to tilt to the upright position. Continuing on, the elevated trailer struck the 113th Avenue overpass, coming to rest upright in the right lane.
Chavez was not injured in the mishap, which occurred at about 10: 17 p.m.
The interstate was closed for about three hours for cleanup and bridge inspection.