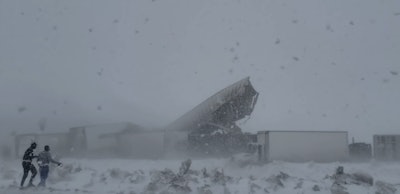 Two truck drivers were among the three people killed in last week's massive pileups on Interstate 80 in Wyoming, and a new video shows part of one of the collisions as it unfolded.
The Wyoming Highway Patrol released information Thursday, March 5, afternoon from its investigation on the multi-vehicle crash on I-80 that occurred on Sunday, March 1, between Wamsutter and Rawlins. In doing so, they also reduced significantly the number of vehicles involved in the crashes.
According to the WHP, troopers were first dispatched to milepost 184 in the westbound lanes of I-80 for a crash of about 30 vehicles, most of which were commercial. Troopers say secondary crashes involving 25 vehicles occurred in front of that crash and within stopped traffic.
WHP also released the identities of the three people killed in the collision. They include two truckers: Emman Oijaka, 64, of Denton, Texas, and Kian Kennedy, 27, of Hampton, Georgia. Also killed was Deborah Carrel, 53, from Marshall, Michigan, who was a passenger in a Toyota Highlander that was struck by a commercial vehicle.
The WHP says the initial number of vehicles involved in the crash has been lowered since conditions at the scene led to some vehicles not involved in the crash to be counted. It was originally reported that some 100 vehicles were involved.
Driving too fast for conditions and following too closely are being investigated as the leading cause of the crashes, according to the troopers. Roadways were icy and there was blowing snow at the time of the two crashes.
A motorist captured part of one of the collisions as it unfolded and posted it to YouTube. The video shows two men running from the pileup.
FAIR WARNING: This video contains some strong language and images some may find difficult to watch.