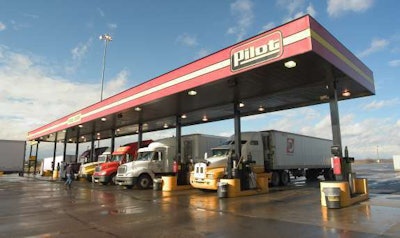 Pilot Company, which operates the Pilot and Flying J travel centers, recently donated $100,000 to St. Christopher Truckers Development and Relief Fund.
The nonprofit organization aids professional drivers and their families who are out of work due to a recent illness or injury, the instances of which could increase as a result of the health and economic effects of the COVID-19 pandemic. Assistance from SCF may be in the form of direct payment to providers for household living expenses, such as rent/mortgage, utilities, vehicle payments and insurance. The fund also provides health and wellness programs for drivers, such as free vaccinations and smoking cessation assistance, with the aim toward preventing some medical illnesses and negative effects.
"Our country depends on professional drivers to keep our economy moving every day," said Jimmy Haslam, CEO of Pilot Company. "When professional drivers are in need, we want them to know they can depend on the help provided by the St. Christopher Fund. We must work together as an industry to ensure drivers have the resources they need to safely do their jobs, support their families, and keep the supply chain moving."
Truckers needing assistance from SCF can apply at truckersfund.org/application.