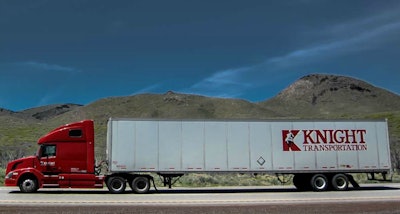 Editor's Note: Welcome to View From the Top, a new series for Truckers News. In each feature, we'll talk with one of trucking's leaders about how their company and the industry are dealing with the unprecedented challenges and changes wrought by the COVID-19 coronavirus outbreak.
___
David Jackson and his family were watching The Disney Family Singalong special recently along with about 10.5 million other people stuck inside by the COVID-19 coronavirus outbreak. At the end, people around the country were shown saying thanks to and holding up signs to honor those on the front lines fighting the deadly pandemic.
Jackson said he, his wife and their five children all cheered when a sign flashed on the TV screen thanking America's truck drivers.
And, for good reason. Jackson is the president and CEO of Knight-Swift Transportation, the nation's largest trucking business. He is particularly pleased with how the company's drivers and the rest of its 26,000 employees are successfully working through the difficulties created by the pandemic.
"Our drivers continue to be just unbelievable in the face of adversity and complexity," says Jackson. "They're keeping the company afloat right now so we're doing all we can to support them."
Supporting the drivers of the Knight-Swift Transportation Group — which includes Knight Transportation, Swift Transportation, Barr-Nunn Transportation, and Abilene Motor Express Inc. — means purchasing 80 truckloads of food and beverages to distribute to them at 24 locations around the country. Jackson said that was done to allow drivers to make one or two fewer stops a week to buy food, which makes their lives on the road easier. He said the company has also created a weekly bonus for drivers, which he said most are earning.
And, while Knight-Swift is a large organization with considerable resources — it earns some $5 billion in annual revenues — Jackson says it's weathering the storm that is the COVID-19 coronavirus because it's decentralized and more a collection of small organizations. This means decision making is pushed to the front lines and this has proven to be helpful.
Hear all the 44-year-old Jackson has to say in this edition of our View From the Top podcast.
Search thousands of trucking jobs to find the job you want.
Find Your Next Job Today