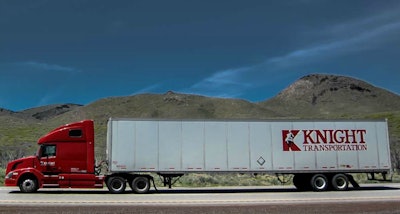 (Editor's Note: In April, as the U.S. and its trucking industry sorted out the problems that arrived with the COVID-19 pandemic, Truckers News had the opportunity to chat with David Jackson, president and CEO of Knight-Swift Transportation. Now, more than eight months into the pandemic, we spoke again with Jackson about how Knight-Swift is doing, about its pay raises for drivers and what's ahead for 2021.)
For many Americans including more than a few men and women in this country's trucking industry, 2020 cannot be over with soon enough. It has been different and more difficult than almost any other year in recent memory, and for many reasons. But, primarily the COVID-19 coronavirus pandemic delivered a double-barreled disaster of a public health crisis that spawned an economic one, both of which overwhelmed the already contentious presidential election.
But, through it all, trucks kept moving freight, sometimes not easily, especially for drivers. Companies learned how to make adjustments, adapt to changing conditions, redistribute resources and, in many instances, continued to thrive.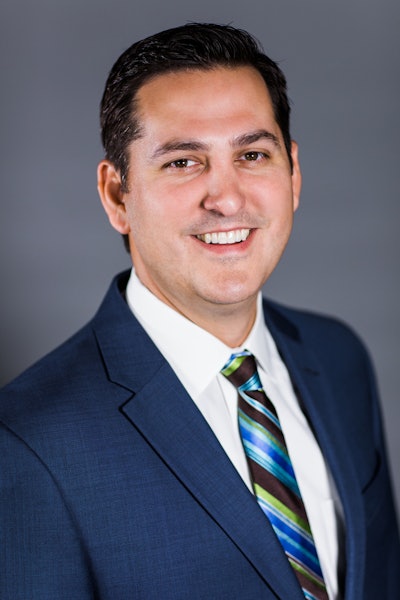 As President and CEO of Knight-Swift Transportation David Jackson has had a busy 2020. With some 26,000 employees, the leader of North America's largest truckload carrier Jackson and his team, like others, waded into uncharted waters and solved problems as they arose. Because of the size and scope of its operation, Knight-Swift was able to deal with issues that cropped up. As truck stops closed or curtailed services, the Phoenix-based carrier was able to secure 80 truckloads of food and provisions for its drivers. And, with 70 terminals across North America, Jackson said Knight-Swift drivers had places to park and rest when things got tight.
And, it's those drivers that Jackson credits with helping Knight-Swift negotiate the many problems of 2020.
"All in all, I think things have moved pretty well," said Jackson. "I would say are the real heroes have been our drivers and the way they've just adapted to find ways to continue to do the job safely."
He also credits Knight-Swift customers for also making adjustments.
"I think our customers have really come a long way," said Jackson. "Initially, it was a little bit dicey, you know, the concept of them having all kinds of people coming into their facilities to deliver goods. I think they were a little scared. But, it feels like they have found ways to still provide accommodations and resources available to our driving associates and those of the industry while not incurring great risk at the same time. So, I feel like our portion of the supply chain is moving really well."
Such was not the case for all of the trucking industry in 2020. As the pandemic unfolded, business for some trucking companies evaporated and there were trucker layoffs and some company closings. Some owner-operators simply parked their trucks and waited for the smoke to clear.
And, clear it did as sections of the economy either reopened or rebounded. Now, as the year winds down, the freight market is as robust as it was in the record-setting year of 2018. But, that brings its own set of problems.
"The only challenge we have is there are too few trucks chasing too many loads at the moment," said Jackson of the broader marketplace. "That is a good challenge for us to have, but that seems to be the bigger issue right now." But it is a challenge Jackson said Knight-Swift is more than up for.
This has led to an increase in rates, which Jackson said "that had been very severely depressed in 2019." He said existing rates are now "rivaling some of the strongest periods we've seen, " adding "the market has a way of adjusting to that rather efficiently and rather quickly. And that's, what's under way."
As rates have increased, so have truck driver wages, said Jackson. Knight-Swift has been one of the companies increasing trucker pay packages, and not just lately.
"We raised driver wages when the pandemic started because of just anticipating there would be some difficulties," said Jackson. "So our brands have done it sometimes in different ways because they're starting from different places and cater to different types of drivers. But, we've had multiple adjustments to driver pay, really since March and I forecast that will continue as we move into next year. The rate market is improving and every time the rate market goes up, driver wages follow in a similar pace in many cases."
Jackson said Knight-Swift announced what he called "some meaningful increases" on Labor Day. He added, "I would say we are in the process right now of additional adjustments to pay. And there isn't just one way to do it one across the board. There are incentives that have been put out temporarily based on production and safe driving miles. In some of our brands those are being either extended or increased. So, as we speak in here in the fourth quarter, there were increases going on more planned to come."
As difficult a year as 2020 has been, Jackson said the company responded well to never before seen challenges.
"There are so many things we'll take from (2020), but if I had to kind of summarize it, it would just be that we create so many self-imposed boundaries that might be unnecessary," said Jackson. "I think 2020 has taught us to be much more boundaryless, whether that's the way we work from home or things that we've established long established as this is the way you do this, this is how you have to do this. This is the process.
"I just think that we've had to rethink so many things and be so creative out of necessity that it's opened our eyes to be more open-minded, more creative, hopefully even more innovative with the goal being to be productive.
"I think we'll look back and move forward with hopefully less self-imposed boundaries."