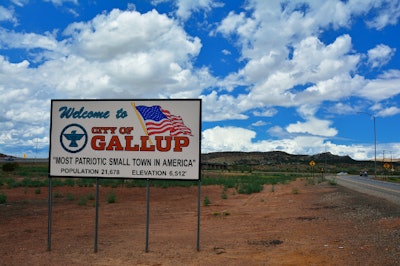 The City of Gallup, New Mexico and its some 22,000 residents are still on lockdown as the state's governor extended an order intended to help slow the spread of the COVID-19 coronavirus.
Interstate 40, which passes through the city in the northwest part of the state, is open but exits are closed. All other roads into the city are also closed, but there is access for trucks.
New Mexico Trucking Inc. shared a message from the state's Department of Transportation that said "trucks can stop and get fuel. They can also make deliveries."
An email from TA Petro said its store "at I-40, Exit 16, is open from 8 a.m.-5 p.m. per governor's orders. Please visit Petro Milan at I-40, Exit 79, from 5 p.m.-8 a.m. Estimated to go back to full hours on Thursday, May 7."
Love's said, "Our location in Gallup, New Mexico, is currently open 24/7 to local traffic only per city officials. From 5 p.m. to 8 a.m., gasoline and diesel are available via pay at the pump only."
Gov. Michelle Lujan Grisham announced the lockdown Friday, May 1. It was to have expired at noon today but was extended to at least Thursday, May 7, at the request of Gallup's Mayor Louis Bonaguidi.
The lockdown was prompted by the rate of the spread of the virus, which governor's office called "frightful." She added, "The virus is running amok there. It must be stopped, and stricter measures are necessary."
The emergency declaration closes all roads into Gallup, limits business hours, restricts how many individuals could travel in a car at once, and directs residents to remain at home except for emergency outings.
The county in which Gallup is located accounts for some 30% of all COVID-19 cases ion the state.