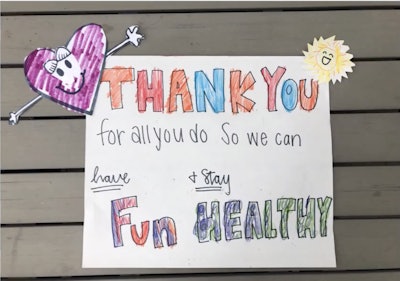 Valvoline Inc. today announced the launch of its "Thanks to Truckers" initiative, a campaign honoring big rig truckers, delivery carriers and waste management professionals providing essential services during the ongoing coronavirus pandemic.
Valvoline will collect #ThanksToTruckers messages and notes of appreciation from individuals and businesses through its Facebook, Instagram and Twitter platforms.
The company will then share those notes with professional drivers in several ways including:
Produce and distribute 7,500 care packages for drivers that contain essentials such as hand sanitizer and masks, as well as snacks, beverages, branded hats and thank you cards
Broadcast messages via Red Eye Radio, a nationally syndicated talk show providing professional truck drivers news, information and entertainment.
Utilize Valvoline's Facebook, Instagram and Twitter platforms to share thank you notes.
"American fleets of all types are devoting countless hours to keep the American economy moving — all while being away from their homes and families and putting their personal health at risk," said Sam Mitchell, Valvoline Inc. CEO. "Here at Valvoline, we want to illustrate our appreciation to these fleets that are serving us in extraordinary ways."
For more information on the Thanks To Truckers initiative, visit thankstotruckers.com. To submit your own note of appreciation for truckers across the U.S., visit the brand's Facebook, Instagram or Twitter accounts, or make a post on your personal social account using the hashtag #ThanksToTruckers.