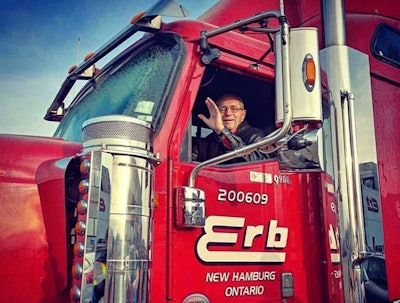 The man whose name is on the major Canadian trucking company he founded died earlier this week.
Vernon David Erb died at home May 20 after a short bout with Leukemia. He was 84 years old.
He began driving truck at the age of 18, according to a post on the website of the Erb Group, one of the largest refrigerated carriers in North America. The company today has some 1,500 employees.
Over the years, Erb served on the boards of the Ontario Trucking Association, Transport for Christ and the Greater European Missions. He received many awards including: OTA-Trailmobile Service to Industry award, Governor General 125 Commemorative medal, Colonel Robert Hardie Lifetime achievement award from the OTA, Waterloo County Hall of Fame, Waterloo Region Junior Achievement Entrepreneur of the year award, Kitchener Westmount Rotary club Paul Harris Fellow award, Wilmot Township Citizen of the year award and most recently the Canada 150 award for Kitchener-Conestoga.
He is survived by his wife Viola (Lauver) Erb, daughter Karen Erb (Donald Davidson), and sons Wendell Erb (Cheryl) and Darryl Erb (Rhonda). He was also a devoted and proud grandfather to Erick Buhr (Tanya Drouillard), Justin Buhr (Jamie Mackay), Lindsey Ng (Gabriel). Kyle Erb (Anne), Katie Harris (Ted), Tyler Erb (Sophia), Emma Erb, Cameron Kiecman and Nicole Kiecman. Great-grandfather of Annycka, Beau, Sophia, Ben, Cameron, Claire and Ailies. He is also survived by his sister Erma Bisset and by his sisters and brothers-in-law Marjorie Erb (Stanley Herrfort), Grace Torkleson, Mabel Paetkau (Walter) Violet Beam (Titus).
A private graveside service to take place at Steinmann Mennonite Church Cemetery. A celebration of life will be held at a later date and will be announced when the available time is scheduled.