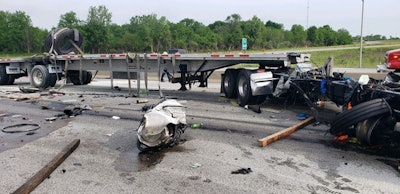 A trucker was seriously injured Thursday, June 4, when his truck collided with another tractor-trailer on Interstate 94 in northern Indiana.
A preliminary investigation by the Indiana State Police indicates a 2020 Freightliner driven by Derrell V. Taylor, 32, from Steger, Illinois, and pulling an enclosed box trailer, was partially in the far right lane and partially on the right shoulder, according to a statement from the troopers.
At about 7:40 a.m., a black 2018 Peterbilt pulling a flatbed trailer with several coils of rolled steel, struck the rear end of Taylor's trailer and jackknifed. Several of the rolled coils broke free and smashed through the cab of the Peterbilt, according to the troopers.
The driver of the Peterbilt, Nathan P. Samples, 47, from Madrid, Iowa, was trapped inside and had to be extricated by fire and emergency medical personnel. He was flown to the University of Chicago Hospital via helicopter after sustaining serious injuries, according to the troopers.
The collision occurred on eastbound I-94 near mile marker 26.
Troopers say the investigation continues.