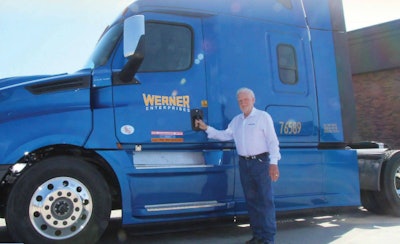 Leadership of one of the trucking industry's leading companies is changing.
Saying, "There comes a moment when you know it's just time to move on," CL Werner, the man who founded what was to become Werner Enterprises, took a step toward easing out of his role on the company's board of directors.
The company this week announced Werner stepped down as executive chairman, effective May 31. A statement from the company said he will continue to serve as chairman of the board of directors through the end of his current term, which ends in May of 2021. Werner is expected to become chairman emeritus then.
In connection with this transition, the board of directors appointed Derek Leathers, the current chief executive officer and president of the company, as a member and vice chairman. Werner recommended Leathers be named chairman of the board of directors, in addition to his roles as chief executive officer and president next May.
CL Werner founded the company in 1956 with one truck. Today the company has almost 11,000 drivers.
"All I ever wanted to do was drive a truck," said the founder in a statement from the company. "As the first driver for our company, I know first-hand that professional drivers are, and have always been, the backbone of our country. America is witnessing that now more than ever.
"I've been proud to have created such a company. But my intent was nothing more than being able to drive a truck, provide exceptional service, meet good people, and hope I could convince the best of them to come to work for me … and it worked.
"There comes a moment when you know it's just time to move on. I'm in good health, and Werner has never been in a better position than it is today. So now is the time. I have the utmost confidence in Derek and his leadership team to continue to take Werner to the next level and beyond."
In a statement on Werner's website, Leathers said, "Never in my lifetime have I witnessed such foresight as CL has. He's passionate about our company, our drivers, our associates, and life in general. There is no doubt he will stay committed to Werner's success going forward.
"He put over 64 years of work into this company, and I appreciate the confidence he has in me and our leadership team going forward. We will continue to concentrate on the things that have made Werner great – being a driver-focused company, with core values that reflect who we are as we serve our customers."