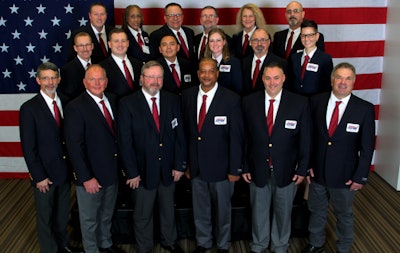 The American Trucking Associations seeks nominations for professional drivers to serve on the 2021-2022 America's Road Team.
Founded in 1986, America's Road Team is a group of professional truck drivers with impressive safety records, that promotes the trucking industry by educating the general public, media, and elected officials about the industry's strong safety record and importance to the economy.
Every two years, a new group of captains is selected to join the ranks of America's Road Team and serve as the industry ambassadors. America's Road Team Captains attend events alongside elected officials, appearing on national media broadcasts and championing the industry at schools and community events. The professional drivers, all of whom have millions of accident-free miles, take a few days away from their companies each month to meet with the motoring public, students, transportation officials and public policymakers to educate and teach about safe driving practices by preforming demonstrations, and explaining the sustainable role that trucking plays in the nation's economy.
ATA members are encouraged to nominate drivers who exhibit strong interpersonal skills, have impressive safety records, and demonstrate a positive attitude toward the industry and their careers as professional truck drivers. Nominations for the 2021-2022 class of America's Road Team are due Aug. 17.
Eighteen drivers make up the 2019-2020 America's Road Team, and together they have more than 36 million combined accident-free miles and 480 years of professional truck driving experience.
Finalists will be announced Nov. 6, with the final selection taking place in January 2021 in Arlington, Virginia.