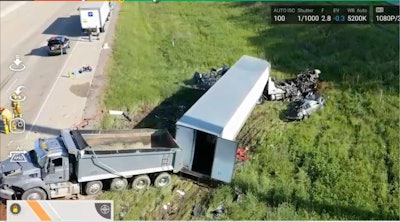 Four people died in several accidents involving tractor-trailers that occurred on Wisconsin interstates late last week. A day earlier, a Florida truck driver died in a crash on Interstate 57 in Illinois.
The Wisconsin State Patrol continues to investigate several crashes that occurred starting early Friday morning June 12, along northbound I-39/90/94, and resulted in four deaths and numerous injuries. Two troopers and a county highway department worker were injured in one of the three crashes.
At about 3:50 a.m. Friday, two tractor-trailers collided on I-30/90/94 at state route 60 near Lodi, which is about about 25 miles north of Madison. As cleanup work continued, another truck struck a trooper car at the crash site at about 5 a.m. Debris from that crash struck the two troopers and the highway department worker.
Then, at about 6:45 a.m., a major crash occurred about a mile south of the original crash site. Troopers report a chain-reaction pileup occurred involving at least eight vehicles, including three tractor-trailers. Four people died in that collision and three more were seriously injured, according to police.
Police credit five motorists who pulled two people from their burning vehicle.
Investigation into the accidents continue.
Trucks collide, one slams through two houses
A 32-year-old truck driver was injured Friday when two tractor-trailers collided in Washington sending one of the trucks through two houses and a camping trailer.
Washington State Patrol said a 2001 Kenworth driven by John Lamb, 32, of Onalaska was westbound on U.S. Highway 12 in Malone when it crossed the centerline and struck a 1996 International hauling two tanker trailers and driven by Glenn A. Coulver, 63, of South Prairie.
Police say Coulver's truck left the highway, struck a fence and then struck two houses and a camping trailer. Coulver and Lamb were taken to hospitals for their injuries. No one in. the houses or trailer were injured.
According to the state patrol, Lamb could face a charge of second-degree negligent driving.
Three people, including a trucker, die in I-57 crash
On Thursday, June 11, a truck driver was one of three people who died in a crash on Interstate 57 near mile marker 183 in Mattoon, Illinois.
Police say traffic was stopped for an earlier accident on I-57, involving two tractor-trailers and several other vehicles. A vehicle slammed into that stopped traffic. Eventually, six vehicles were involved and three people died, including Andrzej Poprawa, 50, a truck driver from Palm Coast, Florida, who was. stopped in traffic.