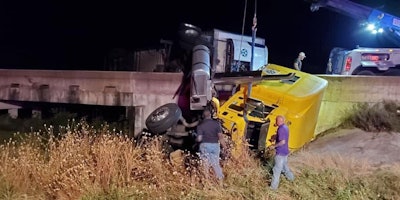 A driver whose truck went over the side of a bridge in Texas Thursday, June 11, was rescued by a local police officer and a passing motorist.
Police in Caddo Mills, Texas say one of their officers and a motorist who stopped at the scene of the accident broke the windshield of the tractor-trailer that went over a guardrail of a bridge over Caddo Creek on Interstate 30. The rig was on fire when the officer arrived.
The trucker was not identified.
Caddo Mills is located about 40 miles northeast of Dallas.
Earlier this week, trucks crashed on bridges in Derry, Louisiana and Gautier, Mississippi.