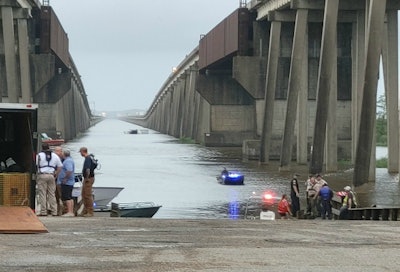 A 47-year-old trucker from Mississippi died today when the tractor-trailer he was driving went off the Interstate 10 bridge over the Pascagoula River in Gautier, Mississippi.
The crash occurred at about 4:30 a.m. and the body of Taj Latos Sanford of Gulfport, Mississippi was recovered at about 7:30 a.m. A person in the truck's sleeper berth survived the crash and was rescued by emergency crews.
Jackson County Emergency Management Director Earl Etheridge told WLOX-TV Sanford was trying to avoid another accident when the crash occurred. According to Etheridge, the trailer separated from the truck cab, causing the truck to go one way and the trailer to go the other. The truck went through the bridge's concrete wall, falling into the Pascagoula River. It landed in about nine feet of water.
The police investigation continues.
The truck is expected to be recovered Wednesday, June. 10.