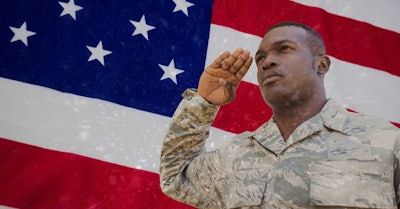 Three of the major truck stop chains will salute, help and feed military veterans and members of the armed services as part of their observances of July Fourth.
Pilot raises fund for Call of Duty Endowment
Pilot Company is raising funds through an in-store round-up campaign for the Call of Duty Endowment, an organization dedicated to helping veterans. Now through July 13, guests visiting Pilot Company stores throughout the U.S., including participating Pilot and Flying J travel centers and One9 Fuel Network stores, can opt to round-up their purchases to the nearest whole dollar and donate the additional amount to the endowment.
The timing of the campaign aligns with a national coin shortage caused by the COVID-19 pandemic. While Pilot Company continues to provide change as appropriate, the round-up option provides a simple way for guests to instead donate their change to support military veterans.
"As we celebrate the Fourth of July, it's important to recognize those who serve and protect our country," said James A. Haslam II, founder of Pilot Company and veteran. "Pilot has had a long history of giving back to veteran-related causes, including the Call of Duty Endowment. We are honored to partner with them again through this round-up campaign to assist veterans in finding high-quality careers."
Donations made during this campaign and Pilot Company's previous $100,000 donation in 2019 for Veterans Day will help support the endowment's ambitious goal of getting 100,000 veterans back to work by 2024.
Love's contributes $125,000 to aid military families
Love's Travel Stops is donating $125,000 to Operation Homefront, the national nonprofit whose mission is to build strong, stable, and secure military families.
Customers can increase the donation amount by purchasing a special edition Operation Homefront/Love's 24-ounce mug for $7.99. The mugs can be purchased at any Love's Travel Stop while supplies last. For each mug purchased, Love's will donate an additional $2 to Operation Homefront.
"As a company that understands the value military men and women bring to work every day, we're proud to support Operation Homefront and its mission," said Jenny Love Meyer, executive vice president and chief culture officer of Love's. "Military families have sacrificed more than most can imagine so we're honored – along with our customers – to help these families thrive."
Operation Homefront provides food assistance, auto, and home repair, vision care, travel and transportation, moving assistance, essential home items, and rent-free transitional housing for wounded veterans and their families. Ninety-one percent of Operation Homefront's expenditures go directly to programs that help military families.
Some of the funds will go toward immediate needs related to COVID-19, which has impacted military families.
TA, Petro and TA Express feeds veterans, active-duty military July 4
TravelCenters of America, operator of the TA, Petro Stopping Centers and TA Express stores will serve all active-duty military, veterans and reservists a complimentary meal at select quick-service restaurants, and at Country Pride and Iron Skillet locations on Independence Day, Saturday, July 4.
Anyone who has served in the armed forces can receive a complimentary meal of their choice from a special menu by showing proof of service to their restaurant server before ordering. Proof of service includes US Uniformed Services ID card, current Leave and Earnings Statement (LES), veterans organization membership card, photograph in uniform, DD214 form, or a citation or commendation.
"We are grateful for all the men and women who sacrifice their lives for our freedom and are proud to serve them every day," said Barry Richards, president of TA. "We enjoy using America's birthday as an opportunity to show our appreciation and remind them of the true heroes they are."
Many Country Pride and Iron Skillet restaurants will honor all of those who gave their lives defending our country by displaying a Fallen Soldier Tables. A single place setting at an empty table represents the wish that fallen men and women of our armed forces could be present to dine with us.