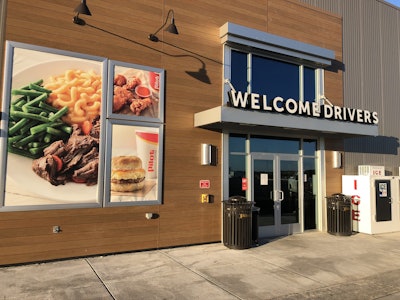 Pilot Company last month opened a Pilot Travel Center at 1201 E. IL Route 38 in Rochelle, Illinois.
The new Pilot offers many amenities, including:
Inside the new Pilot Travel Center in Rochelle, Illinois

78 truck parking spots
8 diesel lanes with high-speed pumps
5 showers
Public laundry and seating area
Fresh-made pizza; home-style meals for breakfast lunch, and dinner; hot and cold Grab-and-Go offerings prepared on-site daily, including salads, sandwiches, fruit cups, and burritos
Dunkin Donuts self-serve offerings
"We're committed to making a better day for people living, working, and traveling through Ogle county and across the nation," said Ken Parent, president of Pilot Company. "We continue to invest in new locations to bring convenience, quality, great food, and amenities to those who are traveling the roadways."
Rochelle is located in north-central Illinois about 80 miles west of Chicago where interstates 88 and 39 cross.