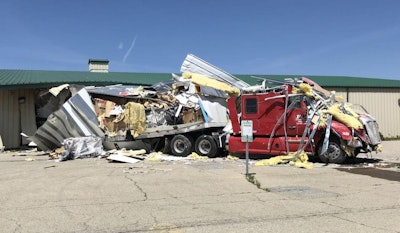 A driver's coughing spell Monday, June 15 led to his tractor-trailer leaving an Illinois interstate and crashing through a nearby business.
The truck of the unidentified trucker left Interstate 80 in Peru, Illinois, and crashed through a building that had until recently housed the Peru Antiques Mall. As it crossed the east and westbound lanes of I-80, the truck hit another vehicle.
Authorities say the truck driver was taken to a local hospital, and no one was in the building at the time of the mishap.
Peru is located about 60 miles northeast of Peoria.