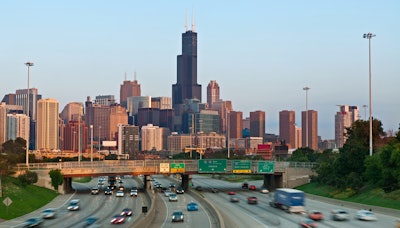 Chicago is the latest government entity to enact emergency restrictions on travelers in response to a surge in COVID-19 cases in some southern and western states. However, it appears most truckers from, or those traveling to or through the city ought to have few concerns.
Starting Monday, July 6, anyone arriving in Chicago who has spent more than 24 hours in a state seeing a surge in new COV ID-19 coronavirus cases must quarantine for two weeks under a new public health order issued by Mayor Lori Lightfoot last week.
The order applies to any traveler to Chicago from one of 15 states that have had large outbreaks in recent weeks, including Alabama, Arkansas, Arizona, California, Florida, Georgia, Idaho, Louisiana, Mississippi, North Carolina, Nevada, South Carolina, Tennessee, Texas, and Utah.
Chicago's restrictions come after New York, New Jersey, and Connecticut announced similar precautions for travelers coming to those states.
Those who travel for "essential" work are exempt, but urged to "avoid public spaces as much as possible." That includes "any state, local, and federal officials and employees traveling in their official capacities on government business, including military service."
City hall did not specifically mention truck drivers.
The order, issued Thursday evening by Chicago Department of Public Health Commissioner Dr. Allison Arwady, directs travelers "entering or returning to Chicago from states experiencing a surge in new COVID-19 cases to quarantine for a 14-day period from the time of last contact within the identified state."
Violators are subject to city fines of $100 to $500 per day, up to $7,000. However, city hall has not indicated how or if it will be enforced.
Even if a traveler from a hotspot state tests negative, they'll still be required to quarantine because "individuals can develop symptoms and become contagious up to 14 days from their last exposure," officials said.
Calls and emails to Chicago city hall, the Chicago Health Department and the Illinois Trucking Association for clarification were not returned.