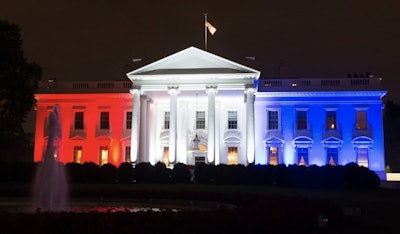 Several truck drivers were guests of President Donald Trump as part of the White House's "Salute to America" Independence Day celebration Saturday, July 4.
Drivers from nine companies, all members of the American Trucking Associations, were part of the White House's event honoring the efforts of frontline workers during the ongoing response to the COVID-19 pandemic. They were:
Baylor Trucking Inc. – Steffen Schulz
Cargo Transporters Inc. – Richard Miller
Holland – Herschel Evans
J.B. Hunt Transport Services Inc. – Rodney Taggart
J & M Tank Lines Inc. – Darrien Hendersen
Triple G Express Inc. – Byron Coleman
USA Truck Inc. – Jon Yeager
US Xpress Inc. – Karen and Richard Black (a husband and wife team)
YRC Freight – Steve Fields
"It has been so gratifying to see these professionals get the recognition they deserve from across the country, including at today's White House event," said ATA Executive Vice President of Industry Affairs Elisabeth Barna.