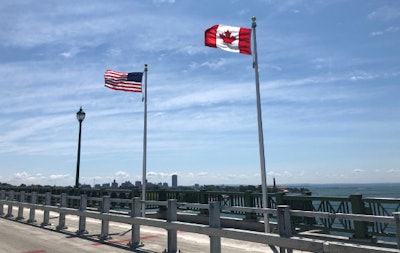 U.S. Customs and Border Patrol agents in Buffalo, New York arrested a 26-year-old truck driver June 25 who crossed into the U.S. from Canada with almost five tons of marijuana valued at some $20 million.
The 9,472 pounds of marijuana was discovered at the Peace Bridge Cargo Facility, and ranks as the largest narcotics seizure recorded on the northern border and ranks 23rd in U.S. in the last five years, according to the U.S. Attorney's office.
At his arraignment today, federal prosecutors said 26-year-old Prabjot Nagra, a citizen of India with permanent Canadian residency status, was driving a truck loaded with 55 wooden pallet boxes that contained vacuum-sealed packages of marijuana.
Paperwork said the truck was carrying storage containers. The CPB said that during what it called "a non-intrusive inspection scan" officers noticed anomalies, which led them to perform a more thorough search.
Nagra was charged with possessing with the intent to distribute 1,000 kilograms or more of marijuana and importation of marijuana into the U.S. The charges carry a mandatory minimum penalty of 10 years in prison and a maximum of life imprisonment if he is convicted, according to the U.S. Attorney's Office.
U.S. Attorney James P. Kennedy said Thursday's bust was the third of its kind in as many weeks at the international border.