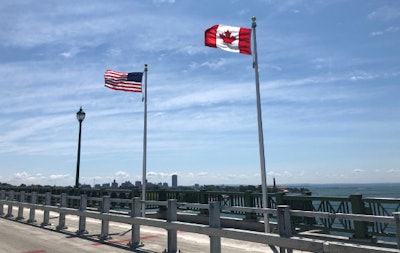 The truck driver involved in a record-setting drug bust in western New York last month has been set free and charges were dropped by federal prosecutors.
Charges against 26-year-old Prabjot Nagra were dismissed Thursday by U.S. Magistrate Jeremiah McCarthy at the request of a federal prosecutor. No reason was given for why the charges were dropped. (Truckers News has a call into the U.S. Attorney's office in Buffalo.)
Nagra, an Indian citizen, and permanent Canadian citizen was arrested June 25 when U.S. Customs and Border Patrol officers inspected his truck at the Peace Bridge in Buffalo and found 9,472 pounds of marijuana. Authorities said the pot was valued at $20 million and said it was the biggest drug seizure on record for the U.S.-Canada border.
Nagra was originally charged with possessing with the intent to distribute 1,000 kilograms or more of marijuana and importation of marijuana into the U.S. The charges could have carried a mandatory minimum penalty of 10 years in prison and a maximum of life imprisonment if he is convicted, according to the U.S. Attorney's Office.