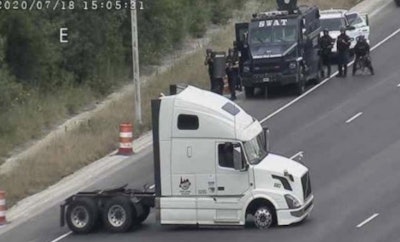 For at least the third time in the last several months, the driver of a tractor-trailer led police on a chase, which in this instance ended when a marksman used a high-powered rifle to shoot the truck's engine to disable it.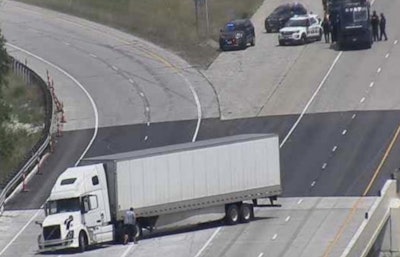 Authorities in Ohio report the driver of a truck led police on a nearly three-hour chase on interstates in and around Cincinnati. The chase began shortly before 1 p.m,. and ended on Interstate 275 when the truck's driver was taken into custody at about 3:45 p.m.
Police say they received calls about a tractor-trailer driving erratically north of Cincinnati. State Highway Patrol officers tried to stop the vehicle, but the driver refused to stop. As the chase unfolded, police say they learned a passenger in the truck was the driver's wife and was being held against her will. The truck's driver was said to be armed.
At one point, the woman was released and taken to a hospital to be treated for her injuries.
During the chase, the driver threatened to shoot police and swerved at police vehicles and even drove in reverse toward them. Around 3:45 p.m. the driver stopped the rig and unhooked the trailer.
Not long after that, a police marksman used a .50 caliber rifle to shoot and disable the truck's engine. When the truck stopped, the driver threatened to harm himself and would not leave the truck. Police ended the standoff but shooting the man with a Taser and a non-lethal foam round.
The driver was treated for his injuries and taken into police custody. The suspect was not identified but police say he was from Georgia.
This was at least the third police chase involving a commercial motor vehicle in recent months. In May a trucker was shot and killed by police during a high-speed chase in western New York. In June, a man drove off with aa tractor-trailer he was a passenger in to flee U.S. Marshals in Pennsylvania. That chase ended when the man in the truck and police exchanged gunfire. The man died of bis wounds.