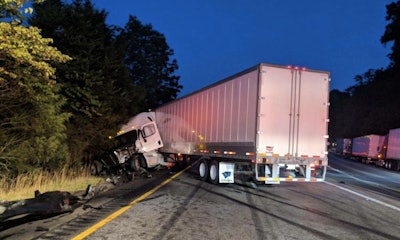 The driver of a pickup truck died this morning in collisions on Interstate 81 in Virginia involving two tractor-trailers.
WFXR TV of Roanoke reports, "Authorities say the pickup truck struck a tractor-trailer that was illegally parked on the right side of the road, but after the pickup truck came to rest in the roadway, another tractor-trailer heading south on I-81 hit the pickup truck."
The collisions occurred at about 5:15 a.m. today, July 29, on southbound I-81 near mile marker 158 in Botetourt County. Authorities did not identify the two tractor-trailer drivers or comment on their conditions.
Traffic on I-81 was stopped for several hours.
Virginia State Police continue their investigation.