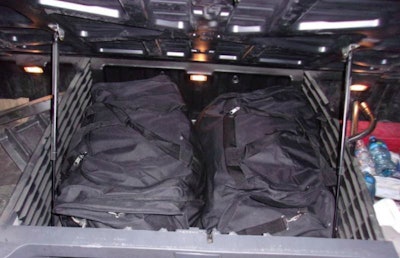 A trucker was arrested in San Diego last week when more than 300 pounds of illegal drugs were found in his truck at a border crossing checkpoint.
U.S. Customs and Border Protection officers at the Otay Mesa cargo port of entry Thursday, July 23, seized 286 pounds of methamphetamine and 26 pounds of fentanyl hidden in the sleeper cab of a tractor-trailer truck.
The CPB said in a statement a driver arrived at the commercial border crossing with a load of recycled cardboard. Officers referred the truck and driver for an imaging scan and an in-depth examination at the dock, during which they found anomalies in the cab of the truck.
Inside, the truck, CBP says one of its officers lifted the sleeper compartment and found two black duffel bags hidden inside. Officers removed 64 cellophane-wrapped packages, 59 of which contained methamphetamine and five that contained fentanyl.
The CBP says officers seized the narcotics, tractor and trailer. The driver, a 36-year-old Mexican citizen with a valid B1/B2 border-crossing card, was turned over to U.S. Immigration and Customs Enforcement, Homeland Security Investigations, and booked into the Metropolitan Correctional Center to face federal charges.
The CBP did not identify the driver or who they drove for.