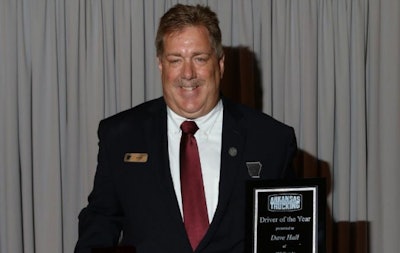 A driver for ABF Freight was recently named driver of the year by the Arkansas Trucking Association.
Dave Hall was recognized Aug. 17 by the association at its annual Safety Awards Luncheon during its Annual Business Conference Vendor Showcase in Rogers, Arkansas.
Hall has been an ABF linehaul driver for five years, and has driven over 3 million accident-free miles in his 32 years in the industry. He won the 2019 Grand Champion title at the Arkansas Truck Driving Championship. He also won first place in the 5-axle class at last year's National Truck Driving Championships in Pittsburgh.
In 2017, Hall was named an Arkansas Road Team Captain to serve as an ambassador for the trucking industry at schools and community events around the state where he talks about his job as a professional driver and how anyone can safely share the road with large vehicles.
Hall is also a volunteer with the Boy Scouts of America and at his local church. When he is not driving, Hall enjoys golfing, camping and fishing.
In nominating Hall, Brent Lloyd, ABF's linehaul operations manager, said, "If you excluded these great accomplishments, ABF would still have one of the best professional truck drivers on the road."
Shannon Newton, president of the Arkansas Trucking Association, praised Hall for his professional reputation.
"Dave is well-known and loved at his company, in his community, and even at our own annual events," said Newton. "He is a great man to know with an incredible safety record," Newton said. "In a year when we've experienced the absolutely essential contributions of truck drivers, Dave stands out among our heroes."
The association also named Leslie Stout Safety Professional of the Year. Stout is the director of safety at CalArk International in Little Rock. Stout has over 15 years of experience in the transportation industry and has served in leadership roles at the state and national levels. She is involved with Arkansas Trucking Association Safety Management Council, the Commercial Vehicle Safety Alliance's Crash Data and Investigation Standards group, Driver Traffic Enforcement group, International Road Check, as well as the Policy and Regulatory Affairs committee.
"She has pioneered multiple compliance programs for the organization and is always working towards the next steps to strengthen our safety culture. Leslie has demonstrated innovation and proactive leadership utilizing effective practices which have provided so much motivation to all our team members," Malea McElyea, CalArk's vice president of business development, wrote in her nomination letter. "From implementing new training programs for our drivers, developing new safety policies/programs, providing safety education to drivers and office personnel and much more, Leslie is a true motivation for people at all levels."
Founded in 1932, the Arkansas Trucking Association represents about 300 trucking companies and businesses that service the trucking industry.