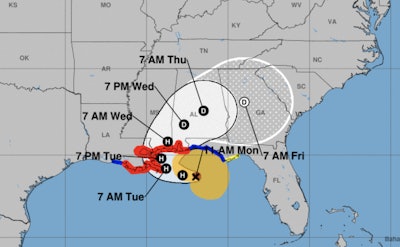 Hurricane Sally is expected to grow in strength in the next day or so and effect the Gulf Coasts of Mississippi and Alabama, according to the National Hurricane Center. Tropical storm warnings are up for areas north of there.
Sally is expected to make landfall Tuesday as a Category 1 storm. The latest update from the National Hurricane Center shows the storm about 165 miles southeast of Biloxi, Mississippi.
The storm has 90 mph winds and is expected to move slowly when it makes landfall.
Despite not being in the direct path of Sally, Louisiana is taking precautions as it continues to recover from Hurricane Laura. Gov. John Bel Edwards declared a state of emergency.
Several other named storms have formed in the Atlantic Ocean.