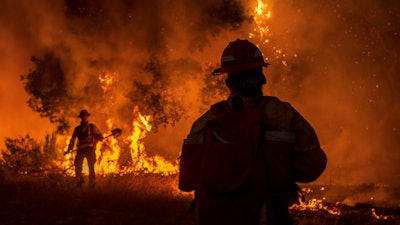 In response to the worst wildfire season on record in parts of the West, the Federal Motor Carrier Safety Administration Thursday, Sept. 10, extended its regional emergency declaration that grants hours of service breaks to truckers providing "direct assistance" to relief efforts. The extension applies to the states of California, Washington, and Oregon, and lasts until the emergency passes or Oct. 19, according to the FMCSA.
The FMCSA defines "direct assistance" as transportation of "supplies, goods, equipment, fuel, and transporting persons into and from the affected states."
In all, wildfires have burned more than 5.3 million acres, destroying some 3,000 homes and killing at least 10 people.
The original emergency declaration was made Aug. 18.
To see the FMCSA's full declaration, click here.
Specific road closures are being posted by state departments of transportation in California, Oregon and Washington.
Wildfires have also burned vast stretches of land in Colorado, Montana, Utah, Idaho, Arizona, Nevada, Alaska, Wyoming and New Mexico.