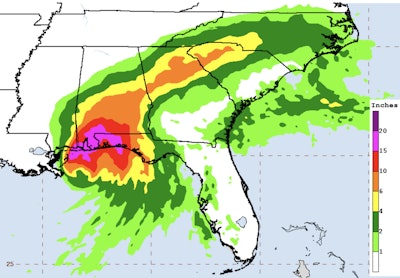 Moving today at just 2 mph, Hurricane Sally is delivering what forecasters say are potentially dangerous amounts of rain along much of the U.S. Gulf Coast.
"Because of that slow movement, we're going to see torrential rainfall, a dangerous amount of rainfall," National Hurricane Center Director Ken Graham said in an online briefing Tuesday morning.
The National Hurricane Center today predicts, "Historic flooding is possible with extreme life-threatening flash flooding likely through Wednesday along and just inland of the central Gulf Coast from the western Florida Panhandle to far southeastern Mississippi."
Communities in Sally's path are apt to receive 10-20 inches of rain, with some areas possibly seeing up to 30 inches.
At 11 a.m. EDT, Sally was located 55 miles east of the mouth of the Mississippi River. It had maximum sustained winds of 85 mph. Little change in strength is forecast until landfall occurs late tonight or Wednesday, according to the hurricane center.
Governors in Louisiana, Mississippi, and Alabama have declared states of emergency. Federal states of emergency have also been declared in those three states.
You can track road conditions online for: