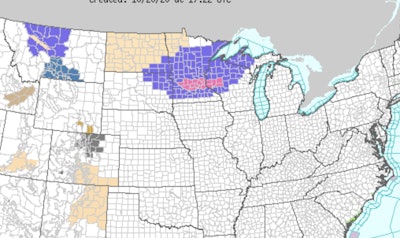 A winter storm warning has been issued for at least parts of five states in the Upper Midwest.
The Nation Weather Service reports: "Wintry weather is expected from the Northern Plains to Upper Great Lakes with periods of snow and freezing rain. Another system will bring more snow to the Northern Rockies and Northern Plains Wednesday night into Thursday."
The weather service said winter weather advisories are in effect from eastern South Dakota to the Upper Peninsula of Michigan, where several inches of snow is likely through Tuesday night.
The service adds, "A second storm system will be crossing Montana and North Dakota by Wednesday night and into Thursday morning, and winter storm watches are in effect for central portions of Montana for this event, which may lead to some locations receiving over six inches of early season snowfall."